Щелкунчик
07/02/2018
Russia / Москва / Культурный центр «Москвич»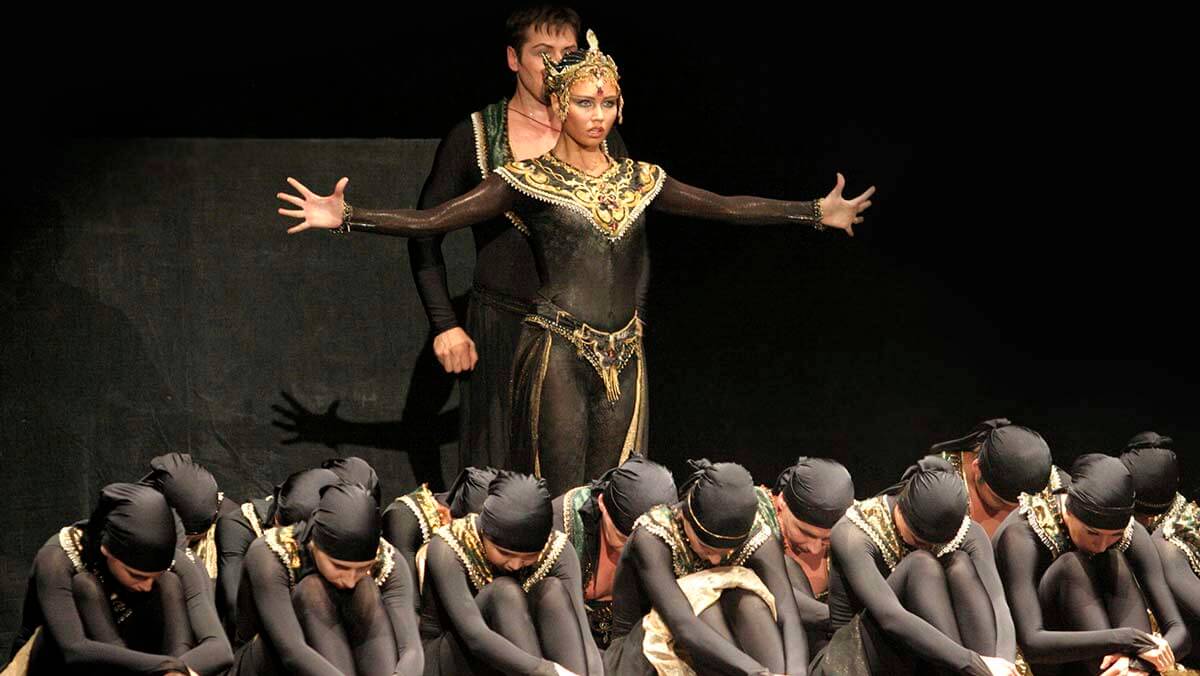 Imprint
About ballet
Summary
Gallery
One-act ballet
Maurice Ravel (1875-1937)
Choreography – Nikolay ANDROSOV
Costumes – Alla KOZHENKOVA
Author of the idea – Gediminas Taranda.

Maurice Ravel felt like a citizen of the world: his mother was a Basque descendent, his father was Swiss. The composer was born in Spain near the Pyrenees, studied and lived in Paris, was influenced by E. Satie, C.Debussy, N.Rimsky-Korsakov. He orchestrated the "Pictures at an Exhibition" by M.Mussorgsky, adapted to stage "Khovanshchina" (together with Igor Stravinsky).
During the World War II, he was recognized unfit for service, but he managed to get to the army as a medical nurse, then as a driver. Later, he gave a lot of concerts as a pianist and conductor, toured through Europe, lived and worked in the United States. By Diaghilev's order he created a choreographic symphony – the ballet called "Daphnis and Chloe", the libretto was written by M.Fokine. In 1925, he wrote the opera "The Child and the Spells". He became famous as the author of the following orchestral works: "The Rapsodie Espagnole", "La Valse" and "Boléro".
It is known that the idea to write "Boléro" occurred after the composer had visited a large plant with its production lines, deliberate movements of mechanical gauges and the car clatters. But as often repeated Ravel, "great music always comes from the heart." "Boléro" is one of the most sensual works of the world classical music. Here reign the enchanting folk motifs of the southern regions of Spain, Africa and Mauritania.
On the pedestal is a perfect deity worshiped by many priests and priestesses. Music is becoming louder and it seems to animate the idol making it from a silent statue into a living Goddess. She comes down to the ground on the stairs made of living human bodies and merge in a dance with the Chief Priest, who is the only one who has been given the right to touch the Goddess. He is drunk with her proximity and seems to have become equal to the Divine. But it is a deceit, an illusion inspired by the Spell. The Goddess will once again ascend to her throne, her pedestal and will beat down the madman, who is zealing for her, into the abyss with her majestic gesture…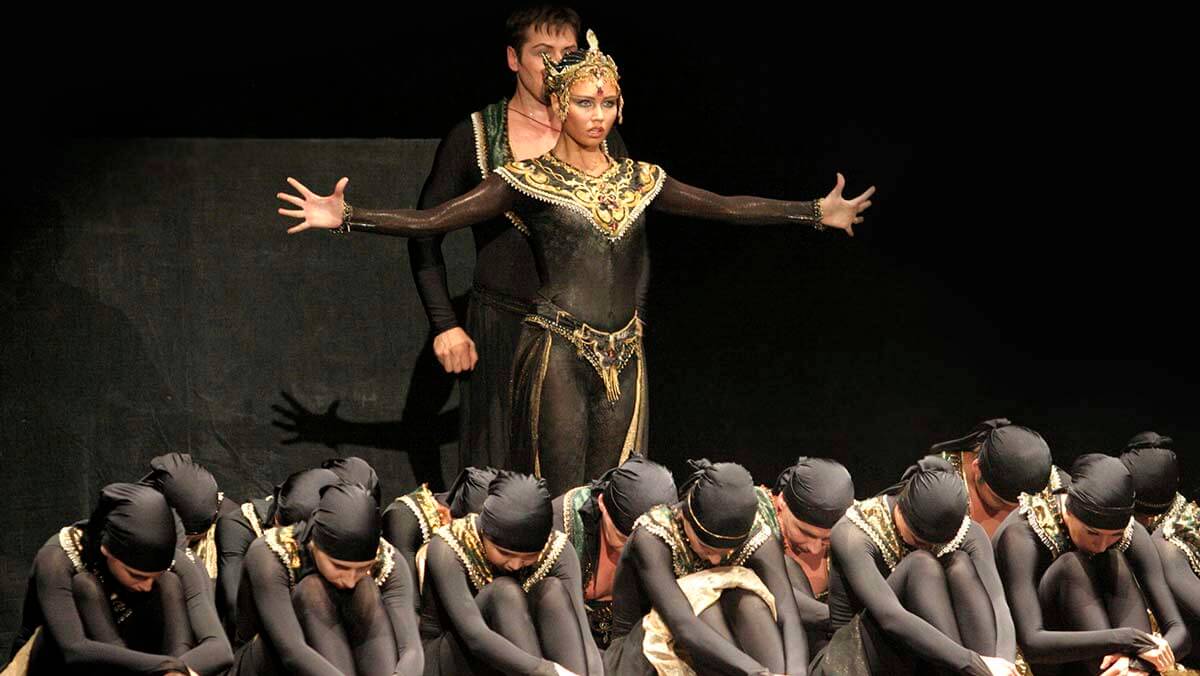 Выходные данные
О балете
Краткое содеожание
Галерея
Одноактный балет
Морис Равель (1875-1937)
Хореография – Николай АНДРОСОВ
Костюмы – Алла КОЖЕНКОВА
Автор идеи – Гедиминас Таранда

Морис Равель (1875-1937) ощущал себя гражданином  мира: его мать была родом из басков, отец – швейцарец. Композитор родился в Испании у Пиренейских гор, учился и жил в Париже, испытал влияние Э. Сати, К. Дебюсси, Н. Римского-Корсакова, оркестровал «Картинки с выставки» М. Мусоргского, совместно с И. Стравинским обработал «Хованщину».
Во время первой мировой войны был признан негодным к службе, однако добился, чтобы его взяли в действующую армию санитаром, затем шофером. Позже много концертировал как пианист и  дирижер, совершил  турне по Европе, жил и работал в США. По заказу С. Дягилева на либретто М. Фокина создал хореографическую симфонию – балет «Дафнис и Хлоя».  В 1925 написал  оперу «Дитя и волшебство». Прославился как автор оркестровых произведений: «Испанской рапсодии», «Вальса» и «Болеро».
Известно, что идея «Болеро» возникла у композитора после посещения крупного завода с его поточными линиями, мерным движением механики, грохотом машин. Но «великая музыка, – часто повторял Равель – всегда идет от сердца».  «Болеро» – одно из самых чувственных произведений мировой музыкальной классики. Здесь  царят завораживающие народные мотивы южных областей Испании, Африки, Мавритании.
На постаменте – прекрасное  Божество, которому поклоняются многочисленные жрицы и жрецы. Музыка все громче и это, кажется, оживляет идола, превращая из безмолвного изваяния  в живую Богиню. Она сходит на землю по лестнице из живых человеческих тел и сливается в танце с Главным Жрецом – единственным, кому дано право    прикоснуться к Богине.  Он опьянен ее близостью и, кажется, стал равен Божеству. Но это – обман, навеянная чарами иллюзия. Богиня вновь взойдет на свой трон-постамент, величественным жестом столкнув в бездну устремившегося за ней безумца…